The 2021 Hurricane Season has officially begun. In recent years, trees in the Upstate have had to endure much more severe weather and close calls from hurricanes and microbursts. Chances are that this hurricane and storm season will be no different. Your trees surviving the next severe weather event may depend on the actions you take early on in the season. A tree's owner is legally responsible for damage or injury that occurs because of tree failure.
At Carolina Outdoor Care, we want to make sure that our clients, their loved ones, and their homes are safe and surrounded by healthy, happy trees. Remember – prevention is the best solution. A healthy and happy tree that is properly maintained is far less likely to become a hazard than one that is ignored. Our Owner and Arborist, Dennis Mann, will gladly schedule a consultation and perform a free Hazard inspection of your property.
The average person is not trained to spot a tree that is in distress. There are some conditions that are obvious that the tree is a hazard. If the problem is obvious, you need to call a qualified Arborist right away to take care of the tree and get it off your property.
Some things to be aware of are:
Hanging, Broken, or Damaged Limbs – Probably the most visible of the tree hazards, a broken or hanging limb is a telltale sign that your tree is, in fact, a danger. However, limb damage isn't always so obvious.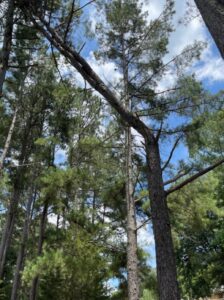 Leaning Trees – Many trees don't grow completely straight, but a tree that leans suddenly indicates a problem.
Proximity to Power Lines – When the power goes out during a severe storm, a common cause is a fallen tree that has landed on or snapped power lines on its way down. Trees that grow near power lines can become a serious and even lethal hazard. Once the upper extremities of a tree are within reach of power lines, it is important to take action. Trees in contact with power lines may become energized. Do not approach or touch them, you may be seriously injured or electrocuted.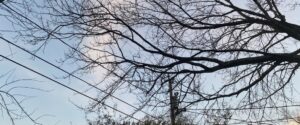 Dead Wood – An obvious sign your tree has a problem is dead wood in the tree's crown. Dead branches in a tree's crown are commonly referred to as "widow makers" because they pose a great threat to those below. Dead branches can fall even on a calm day, for seemingly no reason, with disastrous results.
Mushrooms Near the Tree Base – A tree's roots are perhaps the most important factor in terms of structure, but root defects tend to be difficult to spot. Even a tree that appears healthy can have serious problems below ground. Look around the base of the trunk for evidence of root defects. Mushrooms growing near the base of the tree or cracked or heaving soil can all point to root defects.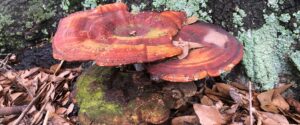 If you have concerns, or just want to play it safe, please don't hesitate to call and schedule a free Hazard Assessment today!